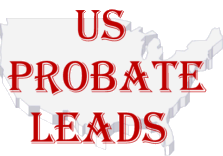 US Probate Leads identify the individual properties that were owned by the decedent at the time of death – this is relatively unheard of in the Probate data collection industry, as this requires identifying this data from County deed records and involves considerable extra effort.
There simply is not a better way to mine probate data than that provided by our service. Now you can search through the properties on our site and can find the specific property that is of most interest to you. Once you Register and become a member of the site you can even view pictures of the specific property that you are seeking. As a Subscriber you are provided a full page of information about each property, as well as, a list in Excel format that you can use for mailing purposes.
As a subscriber to the service you receive any lead in our database for just $.95/lead.
Once you subscribe you have access to leads for the entire state that you have purchased. You can purchase as many or as few leads as you wish each month and can cancel your monthly subscription ($49/mo) at any time. There is an annual membership fee of $249.
You can "slice and dice" to find leads by:
and then you can sort the results by:
Market Price
Date Filed
Sq Ft
Year Built
If the Decedent owned property "out of county' you can also identify that property.
US Probate Leads provide data to folks in 46 states through our US Probate Leads program in ~80% of the major metropolitan areas in those states.
Example : There are   almost 10,000 probate properties  just for Texas. This is a great tool!
Frequently Ask Questions
Issue: I want to see the specific properties that are in the estate
Answer:
Leads are now provided by Property
Previously we provided leads for the Decedent only (property information was not included)
Subscribers can even view pictures of selected properties
All properties owned by the Decedent are presented regardless of location
 Issue: Your Pricing is too much for me
Answer
Pricing has been greatly reduced (Leads sell for $.95 each with a membership fee)
 Issue: I only want data for a certain area
Answer:
Individuals can purchase just what they are seeking
They can slice & dice the data in a number of ways by County, MSA, City or Zip
They can then sort by Price, Date Filed, Size & Date Built
We are convinced that we have the best solution for folks interested in getting into the Probate Investing business.
Tell them Duncan Wierman sent you for a very special offer!
US Probate Leads
Corporate Office, USA
3325 Overland Dr
Plano, TX 75023
www.USProbateLeads.com